The Original
Cheesecake Stuffed SnoBall
SNO-LA has quickly become one of the most talked about snowball shops in the Greater New Orleans Area. We are the home of the Original Cheesecake Stuffed snoball and we're also the creator of the "snoball tasting". Our Chantilly Cake and Oreo Cheesecake snoballs are hard to miss across social media sites. Our customers are drawn to our soft ice, excellent customer service and creative flavor combinations. Patrons can choose from a wide variety flavors and they can even have their snowball made in one of our souvenir glass mason jars. We are open year round and we offer a unique indoor customer experience that also allows us to remain open during inclement weather.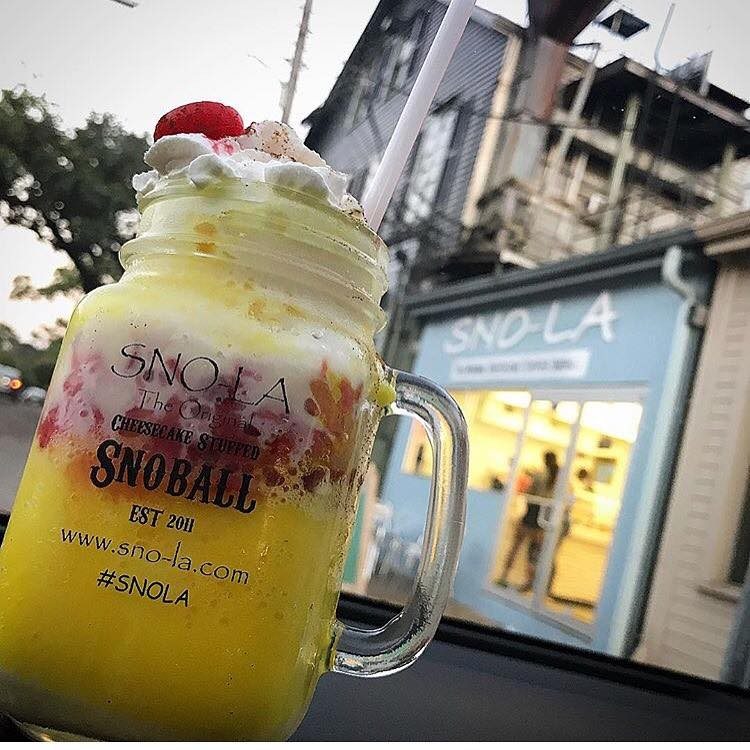 Frequently Asked Questions About Sno-La
What is a snoball?
Finely shaved ice sweetened with different flavor options. A New Orleans staple!
What is a cheesecake stuffed snoball?
A Sno-la original. It's a twist on the traditional New Orleans snoball by stuffing the center of the snoball with a scoop of crust-less cheesecake.
How long have you been here?
Sno-la was established in 2011 when we created the concept of the cheesecake stuffed snoball.
Does it cost more to have a snoball stuffed with cheesecake?
Yes. The price will vary based on the cup size and type of snoball ordered.
How do I get a SNO-LA mason jar?
Any of our snoballs can be made in our signature mason jar, just step up to the counter and place your order.
Do I get to keep the mason jar?
Yes.
Is the SNO-LA mason jar reusable?
Yes. Bring any of our Sno-la mason jars or Mardi Gras cups back and receive a discount off of your next purchase.
Can I bring in my own personal cup/glass and have a snoball made in it?
No. We will only make snoballs from our normal cup selections or SNO-LA branded reusable cups.
If I order a larger size snoball, can I have it made into two smaller cups (split portions)?
We do not offer split portions but we will provide an extra cup upon request.
Do you offer a punch card?
Yes, download the SNO-LA Snoball Mobile App, on iOS or Android, then register for our free loyalty program.
Does SNO-LA cater?
Yes. We offer off site catering for weddings, festivals, parties and other special events. Please contact us for pricing and availability.
If I do not like the snoball I order, can I exchange it for a different kind?
No. As a courtesy, we do allow customers to sample a flavor. So if you're on the fence about how a flavor tastes give it a try. You are allowed to change your flavor if we have not started making your order.
Do you offer refunds?
Customers are entitled to a refund of their purchase upon request, if we have not started making the order. Once the snoball has been made, it is your choice what you do with it if you decide you no longer want it.
What is the minimum age required to work at SNO-LA?
15
Does SNO-LA offer franchises?
Not at this time. However, feel free to send us an email and we can add you to the list of franchise requests if we decide to expand.
Can I order just the cheesecake?
No.
What's your most popular snoball?
The Chantilly Cake, Tiffany's Blue Box, Tres Leches, & Oreo Cheesecake are the top sellers, but most of the menu is pretty popular depending on what time of year it is.